ABOUT US
To find out who we are and the details in our offer, we recommend reading the introductory page "more info" which explains what is included and how much we can shape the service to your needs.
In this webpage we will talk in particular about how it all started, thinking about high school students in search of a curricular internship abroad, of a full immersion in a foreign culture as well as boosting personal, interpersonal and linguistic skills.
PARTICIPATING HIGH SCHOOLS

We have worked successfully with many Secondary Education Institutions, from high schools to technicians, we have references from school headmasters, as well as interviews with heads teachers, of placement departments, English teachers, Internal and external tutors and students involved, managing hundreds of work experience placements.
IN A GROUP BUT..
Unlike how we had unfortunately been accustomed to, each Student Guest will have individual experiences and traineeship: at their teacher's home, with their individual lessons, their unpaid work in local realities (Volunteering or on Curricular Traineeships), and their own free time, a path that can be chosen individually and with autonomy, alongside the assistance required by students / parents and legislation. Organizationally, each Student Guest will not come into contact with his compatriots during their stay, even when coming over in a group.
WHAT ABOUT PASSPORT TO THE UK?
Lucily for groups the collective (group) passport can be used (for groups with over 5 partecipants). See our webpage dedicated to the collective passport to see treaty, ratfication and procedures to get one.
UNPAID WORK EXPERIENCE
For Student Guests in the last three years of secondary education, those over 16 on their first day of work, we have created an emulated labor market, in full compliance with the law on Curricular Traineeships, where they can apply for international work experiences in local registered organisations. The portal generates all the documentation ready for signatures. Your Secondary school could offer an incomparable experience. The direct matching between students, led by their Internal Tutors, and employers, with the possibility of viewing profiles and carrying out job interviews in compliance with privacy thanks to our internal messaging and safety procedures, has proven to be optimal. Motivated students actively propose themselves in providing the service requested by the Work Tutors, as they themselves describe on this ad hoc Work Placements marketplace.
THE FIRST TWO YEARS OF HIGH SCHOOL
With the exception of the work experience placements, all the benefits of this organisation can also be enjoyed by the first two-year students, if over 14 on the day of arrival. Finally a linguistic and cultural full-immersion, living like an English teenager, with their own individual lessons, their own course chosen independently, with our assistance, and lived independently despite departing in a group. Organizationally, students do not come into contact with their classmates or other co-nationals unless specifically requested. 
TEACHERS TRAVELLING.. FREE!
In both senses: free of charge and free to do whatever they like during their stay. The "accompanying" teachers, who on "traditional study holidays" are: responsible for headcount in the morning, afternoon and evening activities; an assistant to local group leaders in trips and other group activities, all of which force students of the group to meet and stay together thus speaking their native language. Rather differently with us, teachers are: free to enjoy themselves too, to experience and to visit the different workplaces and possibly the School Houses around the city if they please, to evaluate the quality of the services offered, if they wish; the only responsibility, when and if defined by their secondary schools, arises from their role as "School Internal Tutor", so in case a student has issues with their work placement, in which case they would be fully assisted by us. Nothing prevents teachers from choosing to try part-time work experience either, an individual language course with the host, sports or visiting in thier free time, just like the paying students. Learn in a Flash!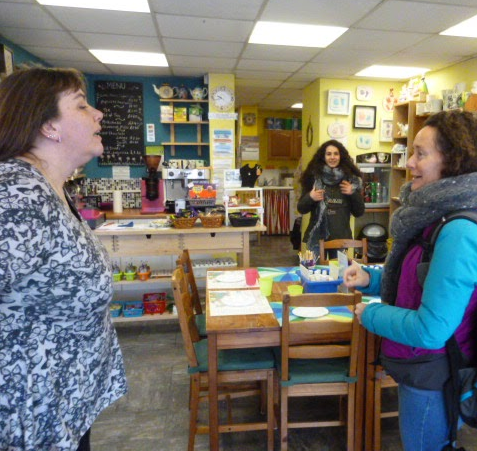 Prof. Della Betta meeting a Work Tutor